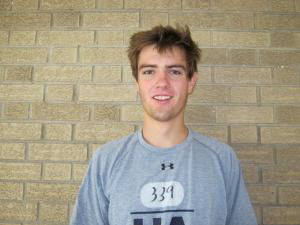 Miles Mackenzie- Ohio Wesleyan University
Measureables:  
Height: 5'10 1/2     
Weight: 165     
DOB: 9/6/1992     
40 Yd. Dash: 4.80    
Academic:
GPA: 4.10    
Denver East High School Class: 2011 
NCAA Qualifier #: 1009255501 
Hometown: Denver, CO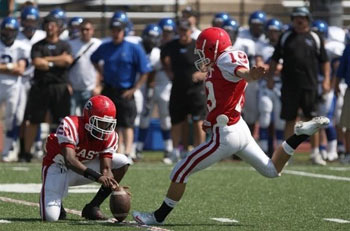 Picture by The Denver Post
Athletics:
*Played soccer and football in the fall of 2008, 2009 and now playing both in fall of 2010. 
*Starting Varsity Kicker/Punter
*Strong Soccer background
*Track 100m 200m
*High scorer soccer 2009-10 season with 14 goals
Awards Received:
Ray Guy Prokicker Academy Rankings:
*#3 Nationally, 2011 recruiting class, Punter/Kicker Combo
*#1 Kicker/Punter Combo, Colorado Springs Camp
*#2 Kicker, Colorado Springs Camp
*#19 Nationally, All High School Classes, Punter/Kicker Combo
*Western Region Kick-off Record Holder (76 yds)
Miles Dominated the Colorado Buff's Kicking Camp Competitions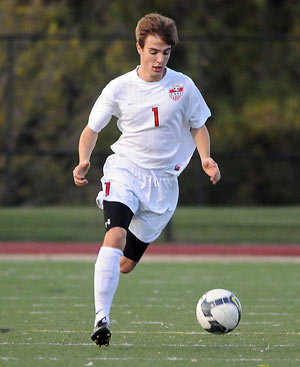 Picture by Steve Nehf, The Denver Post
MAX PRESPS 2010 season statistics
More press:  PREP COLORADO Miles MacKenzie of Denver East. MacKenzie, also a dual threat punter/kicker, has had 17 of 18 kickoffs end as touchbacks. MacKenzie's strong leg especially on kickoffs may be his most recruit able trait. He has also hit field goals of 45 and 47 yards this season to go with 12 of 12 on PATs, MacKenzie is also a key component of the Denver East soccer team so his fall is very full. That schedule hit its max recently as he missed a football game to play in a soccer tournament in Missouri.
Both of these kickers, playing in run oriented offenses, will have numerous opportunities to make kicks that will help propel their teams to wins. If they split the uprights enough times college programs will take notice.
"A&B has helped my son make the most out of his high school football experience. Being a great athlete must include being a good student and citizen. A&B helps athletes realize their potential as players and as people." - Amie MacKenzie (mother of Miles)
Save