Featured on ESPN during the Major League Baseball All-Star Home Run Derby 
For Athletics & beyond, "Sports is a window to the world and a way out problem solution."                                                                            
Athletics & Beyond is a resident-led nonprofit organization that is intrinsically designed to increase and expand the educational trajectories of Denver students at risk of high school and college incompletion.  A&B's mission is to create opportunities through exposure. By using athletics to capture the attention of student-athletes, A&B incorporates robust services that also provide participants with the opportunity to develop life skills, explore alternative careers, and have access to preparatory rigorous academic support. Such services have enabled A&B to engage students academically and dramatically increase the likelihood that marginalized students graduate high school, attend and are prepared for higher education as well as obtain the discipline and fortitude to graduate with a post-secondary degree or apprentice program. We are a sports-based youth development & college readiness program that consists of four components: 1) Educational Success, 2) Life Skills Building, 3) Career Options and 4) Athletic Development.
The Student-Athlete Program (SAP) is transformational in our approach working with marginalized youth primarily attending Denver Public Schools (DPS). Currently, there are no other programs in the Denver metro area that combine the aforementioned components into a whole-child approach to at-risk youth development. With the organization's foundation goal and mission to increase high school and post-secondary, this approach has produced graduation and retention rates that are unrivaled by other organizations in the Denver Metro area. The Educational Success component of SAP provides academic support and resources and intensive mentoring. A&B hosts National Collegiate Athletic Association (NCAA) Eligibility Center workshops, requires academic tutoring; ACT and SAT preparation, and testing and monitoring of the academic progress of students. Additionally, throughout the year A&B student-athletes participate in college campus tours and sports camps and combine. 
A&B provides Athletic Enrichment programming for several sites in Denver for grades K - 8. The Enrichment Program intentionally provides Social Emotional Learning opportunities for staff and scholars with the following five that align with the following five that are also part of Character Development Learning Initiative; Empathy, Emotion Management, Relationship Building, Responsibility, and Personal Development. 
Athletics & Beyond Student-Athletes Show on Mile High Sports Radio AM1340 or FM104.7 The FAN
"We have teamed up with Comcast as a Lift Zone (Internet Essentials) and T-Mobile for Education to assist families experiencing connectivity challenges.   
In memory of Davarie Armstrong Sir Sedrick Donovan Gregg  Gaylan "Lion" Allen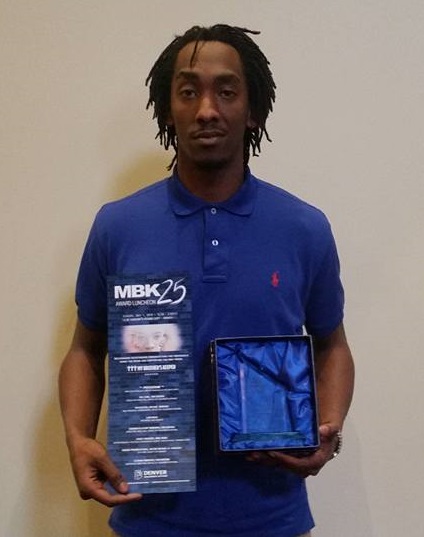 A&B youth leadership prominent advocates at the City of Denver My Brothers Keeper Summit.  "This is going to be very effective," said T.J. Baskerville, a junior at PUSH Academy who's already looking forward to next year's summit. "I want a big outcome every year, for a change to be made every year. I want to hear someone say that I had an effect on their life."
Photo Caption: It is an honor being one of the Inaugural honorees for the MBK25. This award was presented by Mayor Michael B. Hancock to some 25 amazing partners and front-line workers who are helping us deliver the mission of President Obama My Brother's Keeper Initiative in Denver. In photo A&B Peer Mentor Jeff Hampton
All inquiries contact us at 720-224-4428 
Athletics & Beyond Family Wellness Center, 4990 Nome, Unit C, Denver, CO 80239 ph# 720-845-1712
Save
Save