ORGANIZATION HISTORY

:
Athletics & Beyond (A&B) was created in 2005 by brothers Ali and Narcy Jackson to address the needs of students in K – 12th grades who are at risk of dropping out of school. A&B takes a proactive approach to reach out to scholars to provide guidance in making positive life choices. More than half of all Denver Public Schools (DPS) students who start in the ninth grade do not graduate within four years. Our program utilizes athletics as a vehicle to capture the attention of students and engage them in academic success before they reach 9th grade. Because of our unique approach, 100% of A&B middle school participants have successfully graduated to high school and A&B high school participants have graduated and successfully enrolled in college and armed services.  
Leadership; All of the Board of Directors are Denver Public School high school graduates. The co-founder is a Dean of Students & U.S. Army reservists. A&B's Chair is a United States Marine veteran, former Dean of Students at Montbello High School, and former Parole Officer for young adults. Sergeant of Arms and the Executive Director are U.S. Army veterans. Our Leadership Development officer is currently a Command Sergeant Major in the U.S. military. Both the Treasurer and Executive Director are accountants. The Secretary of A&B works at a community college as an Academic Advisor and Community Relations Liaison is an HR manager.
Our program name describes the basis of who we are:
Athletics- to fine tune basic fundamental and overall knowledge of the sport of choice.
& -There is more than being just an athlete.
Beyond- to encourage participants to strive for academic success, volunteerism, and plan for a career beyond playing sports.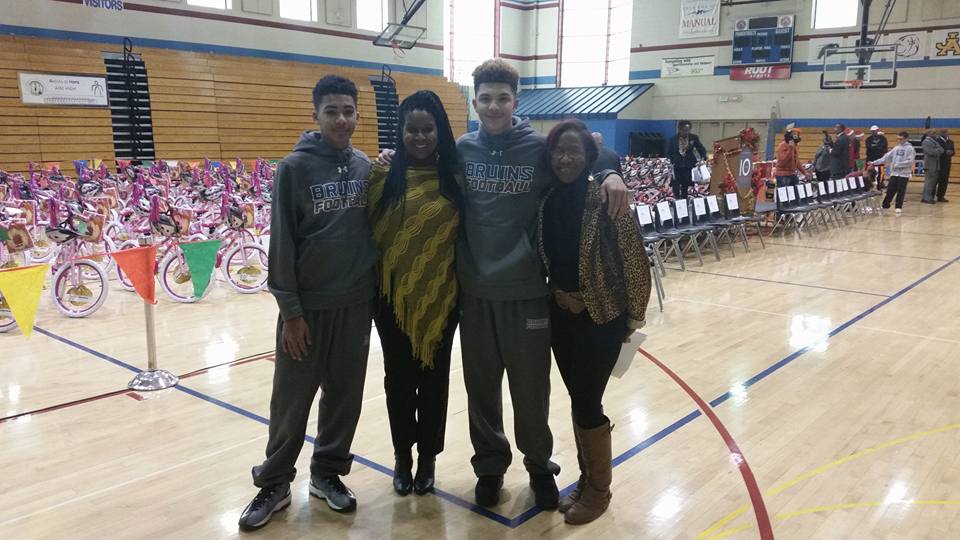 EXECUTIVE SUMMARY:
High-quality resident-led sports specific clinics and life skills workshops are a gateway to academic achievement, better grades, improved chances of attending college, and success in the labor market. Affordable clinics are especially important for marginalized at-risk youth. These Children are higher achievers in terms of grades and dropout rates, as well as related measures of academic achievement such as homework completion, educational aspirations, and more. Sports specific training provides detailed instructions for success in a controlled environment. Marginalized children rarely receive social & emotional support, national exposure, participate in regional combines, national tournaments, NCAA sponsored clinics, and basic life skills workshops because of financial and geographic disadvantages. We find "Giving our children EXPOSURE to OPPORTUNITY" is vital towards the success of our communities.
High school graduation rates in the Denver County, as reported by the Colorado Department of Education report are extremely low- Denver 67.6 percent of seniors graduated "on time" in the spring of 2017, as opposed to 65 percent in 2016. Denver's achievement gap is 48% between Black students and white students in CMAS math. In CMAS Reading and writing it is 44% and SAT reading and writing it is 47%. Disturbingly students in grades 7th - 12th dropped out of school and 77% of these dropouts failed one or more semester courses in the 9th-grade students who attend institutions of higher education obtain a wide range of personal, financial, and other lifelong benefits; likewise, taxpayers and society as a whole derive a multitude of direct and indirect benefits when citizens have access to post-secondary education.
Students who attend institutions of higher education obtain a wide range of personal, financial, and other lifelong benefits; likewise, taxpayers and society as a whole derive a multitude of direct and indirect benefits when citizens have access to postsecondary education. Accordingly, uneven rates of participation in higher education across different segments of U.S. society should be a matter of urgent interest not only to the individuals directly affected, but also as a matter of public policy at the federal, state, and local levels. The income gap between high school graduates and college graduates has increased significantly over time. The earnings benefit to the average college graduate is high enough for graduates to recoup both the cost of full tuition and fees and earnings forgone during the college years in a relatively short period of time.
Any college experience produces a measurable benefit when compared with no post-secondary education, but the benefits of completing a bachelor's degree or higher is significantly greater.
Participants in organized sports are more likely to attend college and to land better jobs with more responsibility and higher pay.
Our Annual Reports
2016 Annual Report
2015 Annual Report
2013 Annual Report
2012 Annual Report
Awards
2018 - 100 Men Who Cook Funding Beneficiary (for work in the community with young adults)
2018  Colorado State University football Hometown Hero's Award
2016, 2017 and 2018 - My Brother's Keeper 25 Honoree (Narcy Jackson football, JC Martinez baseball, and Marlene DeLa Rosa North H.S. basketball)
2016 - Colorado Black Chamber of Commerce Non-Profit of the year finalist. 
2014 - Angels Award
2014 - Steps to Success Adult Community Service Award
2014 - Steps to Success Youth Community Service Award

2012 - 2015 - Proclamations Girls Empowerment & Life Beyond Sports workshops
2010 - Sprint Youth Community Champion Award (AliJah Jackson)

Our Mailing Address
P.O. Box 111172
Aurora, CO 80042
All inquiries contact Narcy Jackson Ph#303-725-0811 or email This email address is being protected from spambots. You need JavaScript enabled to view it.