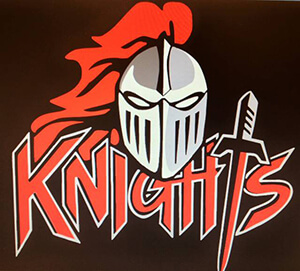 Knights Youth Wrestling serves 45 wrestlers and is a feeder program into East H.S. and the Warrior high school programs. We are devoted to helping each wrestler into the best they can be as a person through the vehicle of sport. Whether that be placing 1st in a local tournament, a state qualifier, state placer, a state champion, or a national champion. Athletics & Beyond Sports Radio Show March 21, 2020
This program can be used by young adults to attain a great deal of success in their youth wrestling career, however, the ultimate goal we have is for every wrestler who trains with Knights Youth Wrestling to have the choice and opportunity to take this sport to the high school level.
  There are four main areas we will concentrate on that we believe are vital in achieving one's personal best and/or preparation for next level wrestling. Each wrestler is required to focus on academics 1st by participating in tutoring when intervention is needed. Next, we train them to focus on learning proper technique followed by discipline and finally be a good citizen.
We will not only teach foundational wrestling but current and advanced technique. Second, we will concentrate on physical training centered on wrestling-based exercises and weight lifting used in high schools.
Third, we will spend ample time on the various mental aspects of this sport, from dealing with pressure to have a proper attitude. Every wrestler should enjoy his experience in wrestling, and without the right mental approach to this sport, almost everything else is useless. This sport is a character-building experience that will last a lifetime.
And fourth, we STRONGLY believe that the best chance for success in this sport and in life is to be self-motivated, and self-sufficient. The staff at Knights Youth Wrestling Club also recognizes that every wrestler has different body styles and different strengths. The coaches will focus on particular techniques that optimize EACH wrestler's abilities and potential.
Some notable wrestlers who have placed in Colorado 5A wrestling are DeVon "Bubba" Elliston and Maya Nelson who is also a 2020 Olympic hopeful in Women's Wrestling. We know this is the sport that can make a tremendous difference in a young person's life. We have already stated that our main goal is to help each athlete get to advance into high school and then the NCAA. More importantly, we believe that the discipline learned in this sport can and will have a major impact on an individual's work ethic and success in life.
 2017 World Champion Maya Nelson
Wrestling Tournament, Sunday, November 24, 2019, at Montbello H.S., 5000 Crown Blvd, Denver, CO  80249.
For more information, contact Joshua Nelson 720-313-6001.