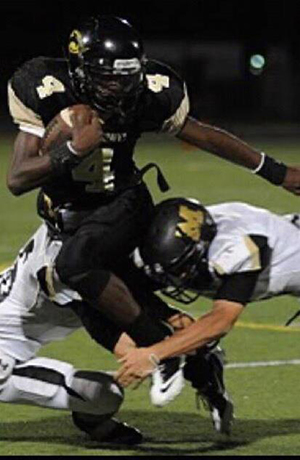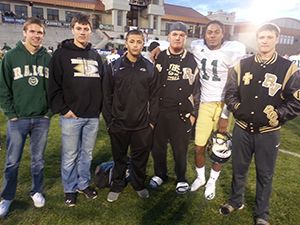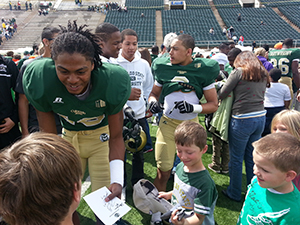 CSU Rams Football bio Class of 2017 Sociology/Criminal Justice Major (Intern with A&B Executive Director)
Prairie View H.S. class of 2011 multi sport athlete (football, basketball and track)
CSU Rams 2016 (Senior): Converted to cornerback during spring camp after spending three seasons as a wide receiver... Has played in all 12 games and started two, recording 25 tackles, an interception, a tackle for loss and three pass breakups.
Recorded four tackles in his first career start at cornerback in the season opener against Colorado (Sept. 2).

Registered a career-high six tackles including a tackle for loss in a win over UTSA (Sept. 10).

Logged his first career interception in a shutout win over Fresno State (Nov. 5).
CSU Rams 2015 (Junior): Played in 11 games, earning starts vs. Minnesota (9/12) and at Fresno State (11/28)... Caught 11 passes for 184 yards... Returned five kickoffs for 168 yards, including a 99-yard return vs. Savannah State (9/5).
Caught at least one pass in six of CSU's final eight games after not recording any through the first five contests.

Had two receptions for 38 yards in a win over Air Force (10/17), including a 23-yard reception in which he hauled in the catch on his toes in order to remain in bounds.

Recorded a season-high 87 receiving yards on just four catches in a win at New Mexico (11/21)... On the third play of the third quarter, Nick Stevens found Vaden for a 57-yard pickup, setting up a Rams' field goal... It was CSU's second-longest play from scrimmage of the season.
CSU Rams 2014 (Sophomore): Played in seven games, catching five passes for 42 yards.

CSU Rams 2013 (Freshman):Provided the Rams with a deep-play threat, hauling in 22 receptions for 255 yards (11.6 average) and three touchdowns while playing in 11 games with one start.
Caught his first career touchdown pass against Tulsa (9/7) on a 19-yard strike from Garrett Grayson to put the Rams in front 17-14... Also pulled down a deep pass across the middle for a gain of 52 yards, putting CSU on Tulsa's one-yard line and setting up a Chris Nwoke touchdown run... Finished the contest with a career-high 80 receiving yards.

Hauled in his second career touchdown in the regular-season finale vs. Air Force (11/30), a 49-yard pass to put the Rams up 51-0.

In the Rams' win over Washington State in the Gildan New Mexico Bowl (12/21) had a career-most eight catches for 60 yards and one touchdown, which pulled CSU within one score with 2:52 remaining in a game the Rams would win 48-45 on a last-second field goal. 
CSU Rams 2013 (Sophomore): Provides the Rams with a deep play threat, hauling in 14 receptions for 195 yards (13.9) and two touchdowns while playing in 10 games with one start.:
Caught his first career touchdown pass against Tulsa (Sept. 7) on a 19-yard strike from Garrett Grayson to put the Rams in front 17-14...also pulled down a deep pass across the middle for a gain of 52 yards, putting CSU on Tulsa's one-yard line and setting up a Chris Nwoke touchdown run...finished the contest with a career-high 80 receiving yards

Hauled in his second career touchdown in the regular season finale vs. Air Force (Nov. 30), a 49-yard pass to put the Rams up 51-0...set a career high with four receptions