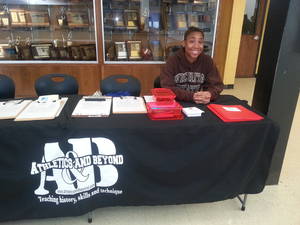 Legislative Aid- Office of Senator Angela Williams, Chair of Colorado Black Democratic Legislative Caucus 
M.A. Educational Foundations, Policy, and Practice (EFPP)
Post-Baccalaureate (Continuing Education) Candidate: Health Professions Program
University of Colorado at Boulder
2013/2014 National Honors Society recipient, accepted into the Honors Program at the University of Colorado (CU) with a Honors LEAD Scholarship with many benefits including having a reserved spot in the Honor RAP (Dormitory).  
Blog: http://thechroniclesofchristel.blogspot.com/ 
"As I am waking up, and thinking of all the wonderful things I should be thankful for that God has given me, I think about Athletics and Beyond. Athletics and Beyond not only took me in as a student, but took me in as a daughter.

My home school my Freshman year of high school (2010) was Montbello High School. This school was unsafe, and did not help students excel in their education. I asked my mother if I can go to East High School (Downtown Denver), which is is a 1.5 hour bus ride from Montbello in Denver, CO. I said that I did not care how far this school was, but I wanted a safe environment and wanted to be a part of a school that would help me excel in my education. IT WORKED. Those daily 4 hour bus rides for 4 years paid off, because I graduated with a 3.6 GPA, and received a "first year" full-ride to University of Colorado Boulder. Athletics and Beyond supported me since I got connected with them (Senior year of high school).

As I am in my Sophomore year, pursuing a dual-degree in Pre-medical and Ethnic Studies, playing as a Wing in Rugby Football, and being a busy bee in many other areas (campus organizations, work, etc.), Athletics and Beyond supports me in every way that they can; literally bending their backs to make sure that I am OK on a predominately white institution (University of Colorado Boulder), where I am included in the 2% African American population on the campus.

Athletics and Beyond supports me in my dreams of becoming a Cardiothoracic Surgeon, and has yet to have any doubts that I am capable of becoming so. 

With all the negativity going on in my home community, this dream will impact young girls who used to be me, and can hopefully impact them to where they can make a better future for themselves. 

Athletics and Beyond is the ONLY organization outside of family friends/family who has completely supported me financial wise in pursuing my dreams; including a Cardiothoracic Observership at Mayo Clinic. The tickets were rising and everyone was very hesitant to donate, but Athletics and Beyond was prompt ALL THE WAY. FULLY paid for my plane ticket, so I can enjoy this opportunity and impact my community. 

My long-term goals are to graduate with a dual-degree in Pre-Medical and Ethnic Studies, continue on to become a candidate for an MSTP (MD/PhD) Program at a institution where I can further use my skills as a learning student, and then continue to become a candidate for a Cardiothoracic Residency Program at a institution where I can eventually stay and become an extraordinary surgeon.

The purpose of these long-term goals are to be a role model for younger African Americans in my community, and prove that you can come from nothing and become something. 

My sum/end goal is to be a Cardiothoracic Surgeon at 29. And with the support of Athletics and Beyond, I know for sure I will achieve all of this. 

I love you Athletics and Beyond, and thank you for being a part of my life."