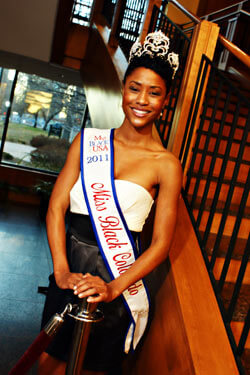 Chloe Johnson is a Denver Native who came from modest means and sought the Miss Black USA pageant as a way of furthering her education objectives and being able to support her passion for the community at the same time. December 17, 2011 she earned her degree of Bachelor of Science in Political Science with a minor in English from the University of Colorado-Denver. Ms. Johnson graduated with a grade point average of 3.5. She hopes to further her education by attending law school soon after graduation and develop a political website that empowers people to be more politically active. Her platforms focus on women's health, something that affects young women in the community significantly.
Growing up in Denver Chloe as a young teen entered foster care she was fortunate enough to return home. It is important to her that women are aware how valuable they are as individuals and how through education and strong health awareness they are able to conquer anything!
In addition in the fall of October 2010 she was on the popular CBS show "Undercover Boss" for DIRECTV Inc. and also received an education scholarship from the CEO of the company for $10,000.