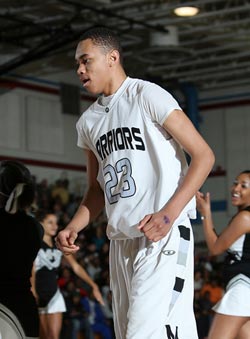 Azlan Williams, basketball, Montbello H.S.
FIRST NAME: AZLAN
CITY: DENVER
SCHOOL: MONTBELLO HIGH SCHOOL
GRADE AVERAGE: 3.0
MEASUREABLES: 
HEIGHT: 6'5
WEIGHT: 175
DOB: 11/14/93
AWARDS:
LETTERED AS A FRESHMAN ON VARSITY BASKETBALL TEAM AND HONOR ROLL 3.5 GPA.
SELECTED AS AN ESCORT FOR THE 2010 DEBUTANTE BALL AS A SOPHOMORE.
WINNER OF THE JUNIOR GOLF TOURNAMENT HOSTED BY TIGER WOODS 1999 PARK HILL GOLF COURSE.
MENTOR TO YOUNG MEN IN CHURCH COMPLETED WAIT TRAINING PROGRAM FOR ABSTINENCE, HEALTHY RELATIONSHIPS AND PEER PRESSURE.  
VOLUNTEER EXPERIENCE
2008-PRESENT- VOLUNTEER BASKETBALL CAMP LEADER/COACH FOR ATHLETICS & BEYOND.
2008-Present- Watch and teach 3-5 year olds at Word up Life Changers Ministry.
2006-PRESENT- SHOVEL SNOW, MOW LAWNS, CLEAN YARDS, HOUSES AND HOUSE-SITTING FOR ELDERLY NEIGHBORS, FRIENDS AND FAMILY.
YOUTH GROUP LEADER AT CHURCH. YOUNGLIFE, CFES (COLLEGE FOR EVERY STUDENT) REPRESENTATIVE.